Hello, I am "Eng. Mohammed Mahmood Merzah " Owner and founder of this project, a young Arab with a university degree in computer engineering..
I am building a social networking site "FreeWorld" with a group of international companies, which will help me achieve this ambition. This site will be the first of its kind in the Arab world with these features and characteristics if we complete our developments in the coming days. We strive to make this project unique all over the world..
I worked hard to keep this project away from any investor who was trying to exploit my ambition in this project. Therefore, she won the sympathy of the important countries of the world because she saw a young man struggling to achieve his ambition and refusing to question his project and not allowing this ambition to be exploited.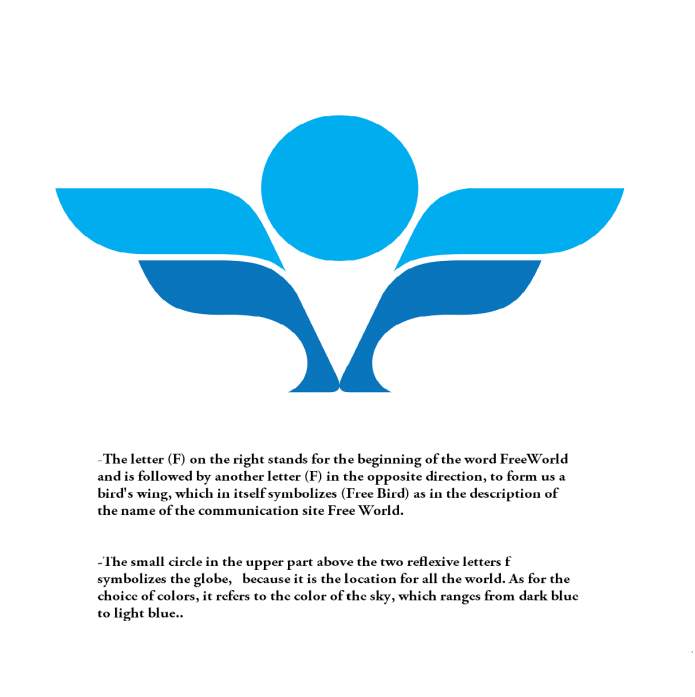 This project will initially be directed to the Arab world, which represents more than a billion people in this world, as a starting point for the project. This is because I am an Arab youth and that the project started from an Arab country and the approval we got for my company is a communication site from an Arab youth to the Arab world, but I will work hard to achieve success in the coming days and make it from Arab youth to the whole world, to be a new social networking site with many features new.
You might think that since the project is from Arab youth and will be directed to the Arab world as a start, this certainly indicates that it will only contain Arabic and possibly English as well, but in fact, even before the official announcement and launch of this project, the most important languages ​​in the world were presented in addition to the languages ​​of My neighboring countries like French, Spanish, German, Chinese, Japanese, Russian, Italian, Turkish, Persian and Kurdish.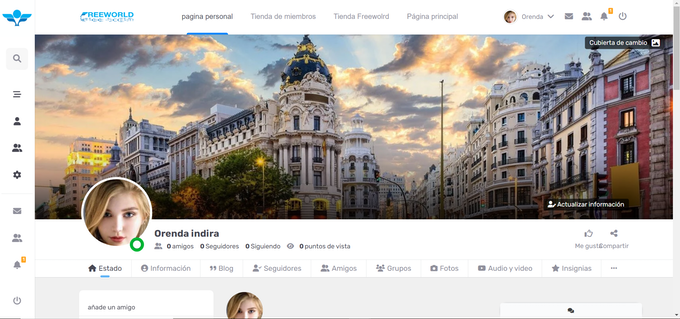 All I need now is to prepare the project and provide all the necessary requirements to be at the required level, and then announce it and start launching.
Our start will be simple, all social media sites in the world started, and then we will gradually expand and spread.
I am sure there will be millions of users very soon for this project.
One of you may ask why you are not looking for an investor to make your project a success. The answer, frankly, is that social networking sites are the most sensitive sites. It is a site with all the secrets of its users, it is very stupid to put such a project in the hands of people who only think about money, so I try to keep this project away from anyone who tries to exploit it for any purpose, harms users, prevents it from being a project for Arab youth who wanted He achieved his ambition and wanted to start his project as all the successful young people in the world did.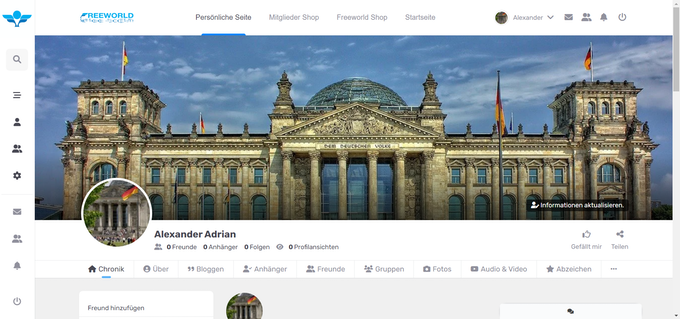 The most important characteristic of my project :-
 The main idea of the project is to believe in the Free World of opinion, so I called it a free world, but this FreeWorld will certainly be restricted by international laws, and I will work to put servers under international supervision to prevent manipulation of user data. This is one of the most important priorities on which the project will be built .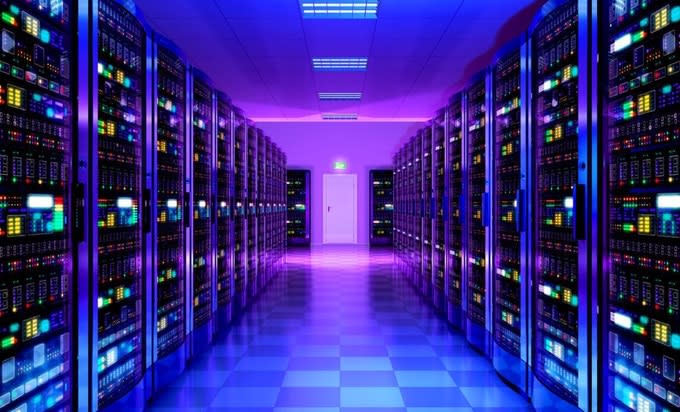 In addition to being a networking site, it blends the store very beautifully and trendy There are two stores. A store to manage the site to display products for sale similar to the way electronic stores display merchandise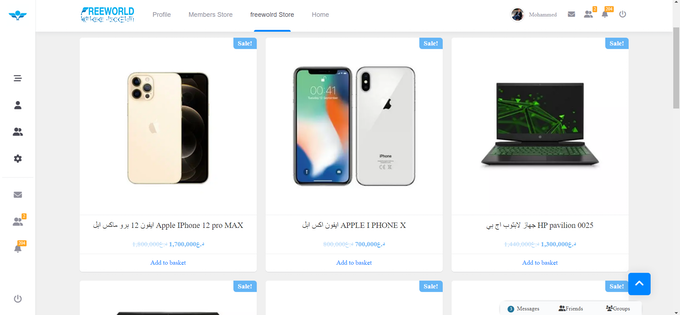 As for the other store, it is dedicated to members of the site, and through it anyone can display any product they have for sale for free .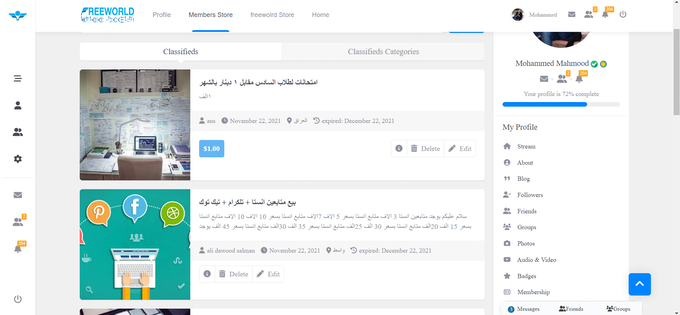 There are many types of products that can be viewed in the member store, and the best part is to have a product with a 30 day date, after which it expires and only the person who posted can see it and also by the admin. There is a great way to display the products offered by any person through his personal page with a tab dedicated to all the products offered by him appear in the section "classifieds".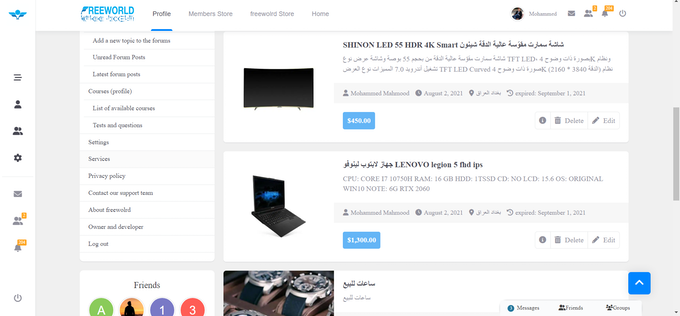 In addition to being a social networking site and a store at the same time, it contains a special section for free and paid educational courses as well.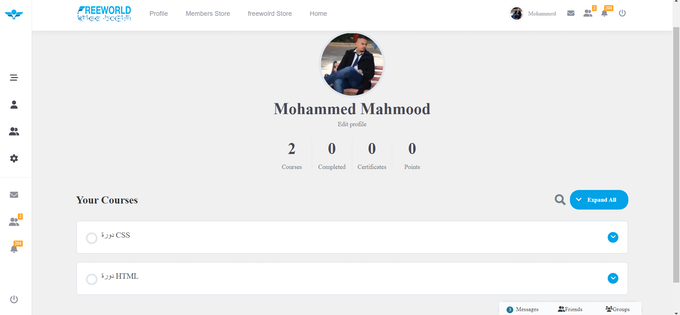 Not only that, all the courses you get through FreeWorld are categorized under the profile and you are given a set of points indicating that you have completed this appears in the "badges" tab .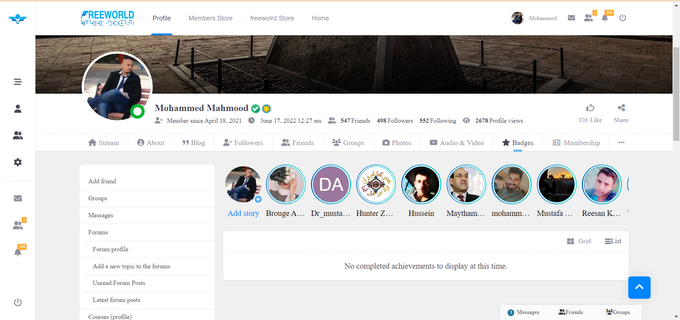 I have not completed any course yet so it tells me that there is no achievement..
The way to add a verification icon in the FreeWorld Social Media  is more unique than the rest of the other sites, because there is an excellent space for it, Where you can put more than one verification icon and with different icons, Probably not understand what I mean, but if you try to use the site, you will notice that there are a number of verified accounts, and you will understand what I mean .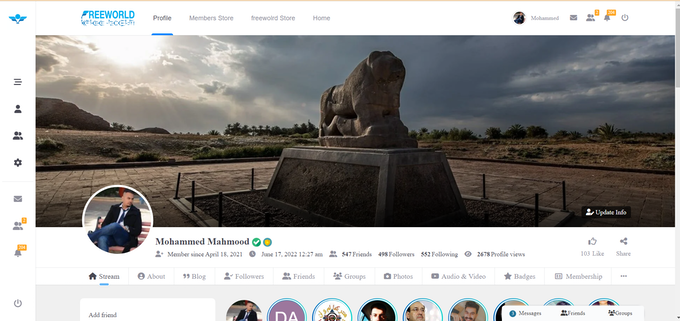 There are a number of different themes on the site that you can choose from, such as the Dark Mode found in most of the well-known social networking sites, but at FreeWorld I'm working on adding more than 12 other patterns in different colors so that you have the freedom to choose from these different themes.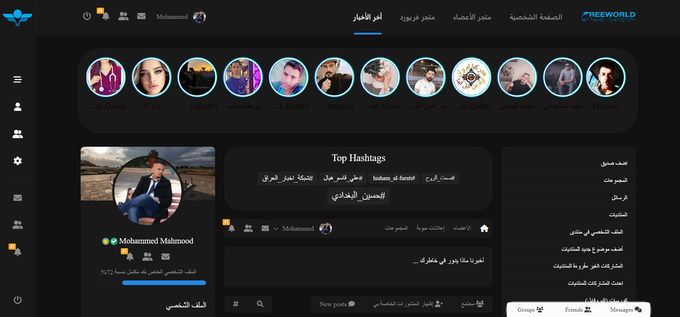 FreeWorld Dark main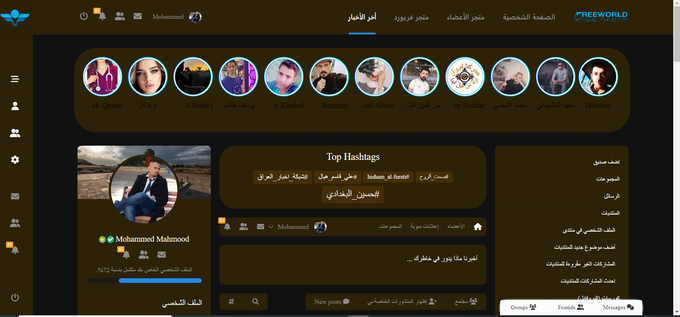 FreeWorld Dark 2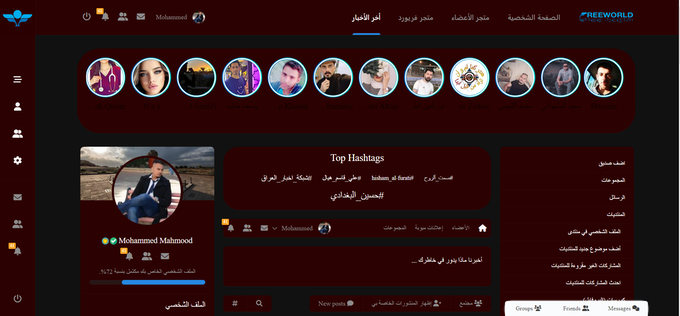 FreeWorld Dark 3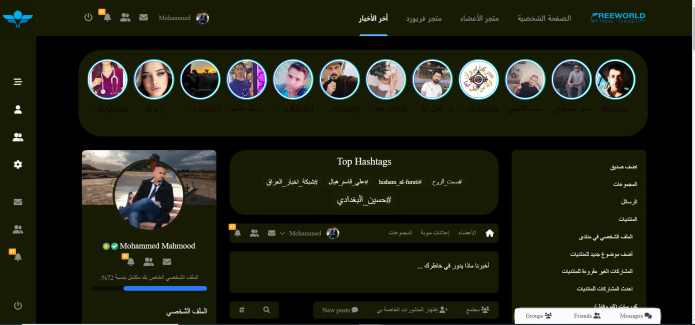 FreeWorld Dark 4
Contains a section dedicated to the forums,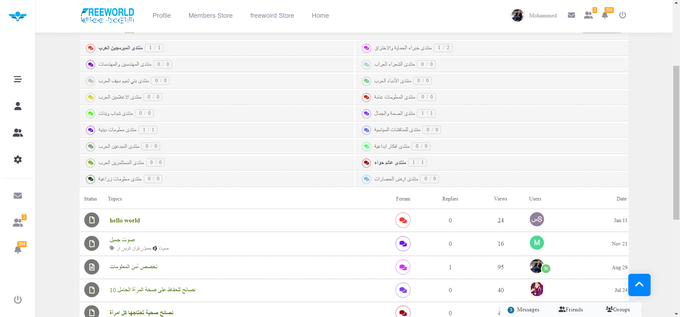 in addition to the presence of groups.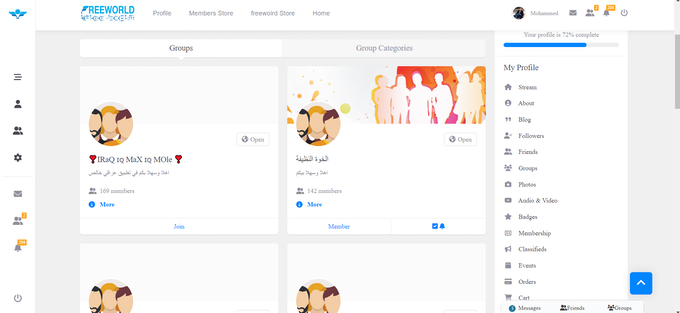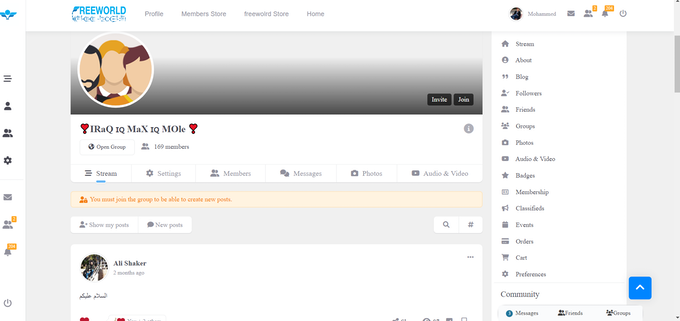 From within one of these groups In FreeWorld
Although the project is still in its initial stages, it has messaging features in a professional manner.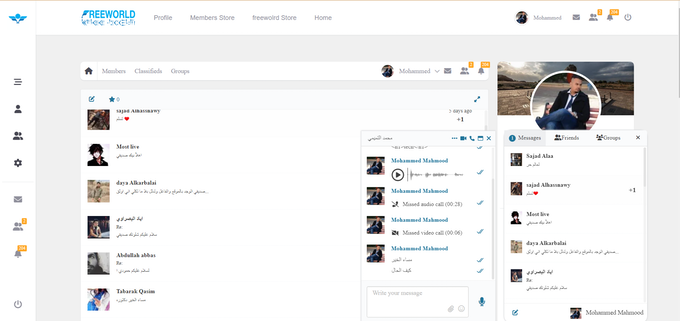 You can message and call with a voice call, video call, send a voice tag, or even send different types of files between members, in addition to having a group chat With friends.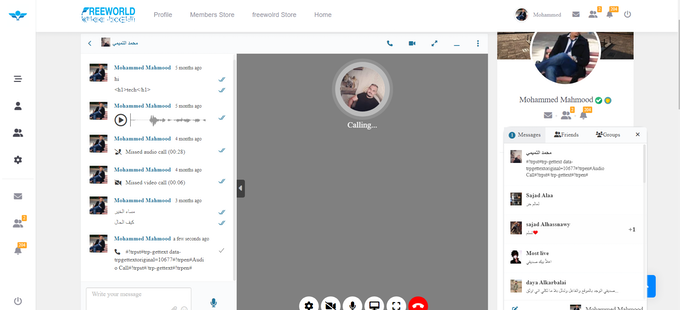 You can message and call with a voice call, video call, send a voice tag, or even send different types of files between members, in addition to having a group chat With friends.
There is an excellent set of features that you will find distinguishing various well-known global social networking sites, most of which you will find available on the FreeWorld.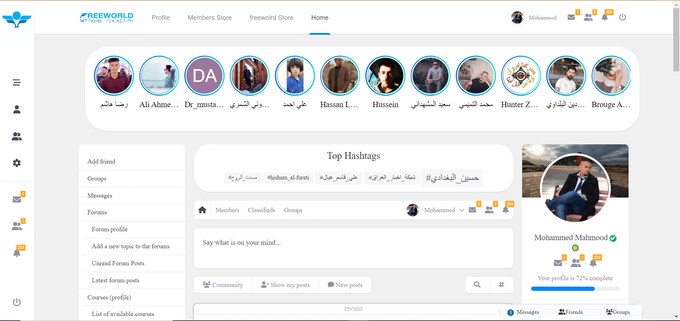 Hashtags And Story In Main Page FreeWorld
Among the unique features, the user's personal page has a number of tabs, including a tab dedicated to publishing research and reports on the user's profile. This tab is known as "blog", meaning that this search appears independent of the posts you are publishing.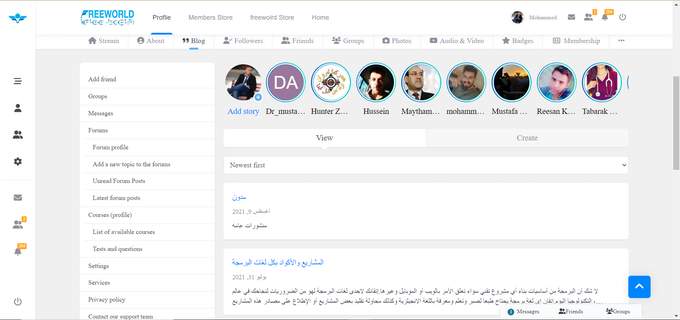 Blog In FreeWorld
Work on creating a digital currency for the project and integrating its electronic wallet. Through which new members and active members are rewarded, in addition to making this currency approved by the project management in all trade exchanges that take place through FreeWorld..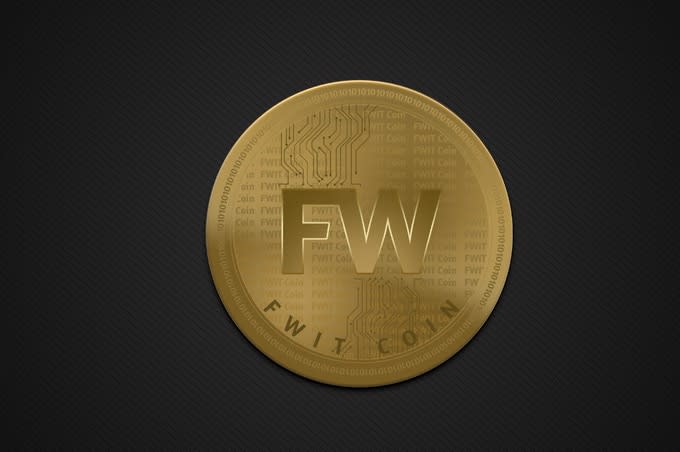 FWIT Coin for FreeWorld project
I also seek to provide an application and a link to the site that works separately, and its responsibility is to communicate via live chat and voice and video calls with a very high degree of security and privacy, and it works separately and can also be linked to the FreeWorld application to provide the feature of communication and communication in the best possible way for all users.  (a future feature)
I seek to build a group of games and link them to the FreeWorld social networking site as well as a digital currency and link it to all the company's products in a smart way that makes the project's success achieve very large gains and is positively reflected on this digital currency. (future feature)
I seek to present a cinema through the site itself, where you will be able to watch and chat with your friends in a beautiful way, so that you can follow a selection of series or films through the FreeWorld networking site. This feature will be available soon. (future feature)
Work on the introduction of the live broadcast with a set of filters that will be very distinctive, In addition to working to introduce unique features that cannot be revealed at the moment. (future feature)  …
Frankly, I am working on a very large project, trying to create investment opportunities leads to a significant improvement in the lives of everyone who contributed or participated in the success of this project and made a donation to the project in a good amount, I am thinking and planning to create a cryptocurrency. This coin will be linked to the FreeWorld social networking site project ..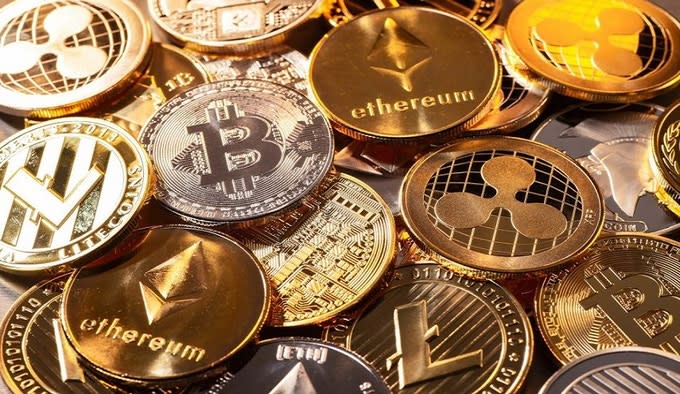 I'm thinking of making digital currency the payment method at FreeWorld, for paid courses, or for buying through a store or site ads. By offering a 5% discount to everyone who chooses to pay with digital currency, this discount will definitely help encourage people to use the FreeWorld project's digital currency.
I'm also thinking of integrating a digital wallet into FreeWorld and working on rewarding site members with the project's dedicated digital currency..
We will give the management of this coin a top priority, I will allocate this digital currency a professional team to manage this coin in the best way possible. I have many unique ideas that I don't wantto divulge, but the site I'm working on will definitely never be a traditional site.
As a result, the volume of trade exchange through this coin will be very large, and it will increase with the increase in the success of the FreeWorld project, I also plan to build a cryptocurrency platform dedicated to the project. This platform will address a big problem which is (prevent dealing with this currency with internationally prohibited trade sites)
If you are someone who understands programming and has experience working with cryptocurrencies, you will surely understand what I need in order to get these results, but It is very complex and requires a large budget in order to implement this scheme
Therefore, I will initially launch this coin on the Ethereum platform, to be an excellent safe and secure currency.
Then, after achieving the success that I aspire to with the FreeWorld project, I will move on to building a new platform for my digital currency and linking the cryptocurrency that I launched on the Ethereum platform with the new platform I created for this cryptocurrency.
I wanted to give donors a bunch of cryptocurrencies that I'm considering releasing, but this might be against the rules so I won't offer cryptocurrencies during this process, but anyway, the shares you'll get will smell everything because they represent (all the company's products).

I have been working on this project for a long time. I was able to reach excellent results in this field and I am now working on developing my project, to add more creative ideas that make my work unique and useful.
Definitely such a project needs funds to provide the necessary updates and the best services and also to provide giant servers that ensure the smooth operation of the site and high speed regardless of the number of users.
We are also now doing a very careful study of the project and are thinking of starting to rebuild the entire project and move it to a new platform, to make it a social networking site capable of receiving hundreds of millions of users, but surely all of this needs to save huge amounts of money, I work hard to save money for my project.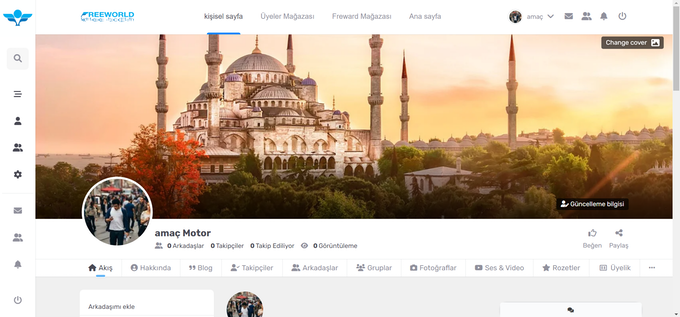 FreeWorld in Turkish
If all goes as planned, you will be a contributor to one of the important social media sites in the world.
I currently own an American company for my project
((FreeWorld For Information Technology Ltd))
Honestly, I created this company for this project after I decided to give the shares as a gift to all the contributors to the crowdfunding process, and I chose the United States because all the giant and similar successful projects start from this great country..
After obtaining the approval of the United States of America to establish an American company for a social networking site from an Arab young man whose beginning is from the Arab world, I became the first Arab citizen to obtain the necessary approvals to build a new social networking site, and as a result my project will be the first Arabic social networking site with a high level and new features..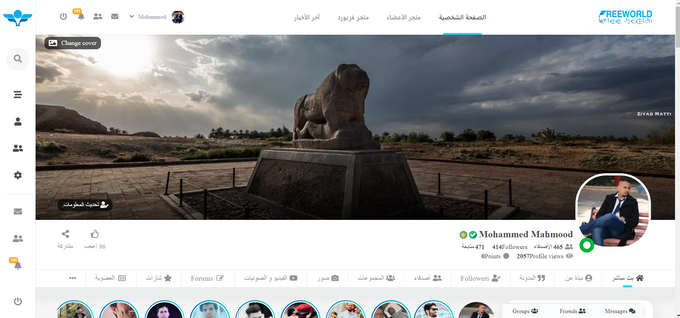 FreeWorld in Arabic
We will also be building a suite of games and apps that will be part of the company's product in the next few days.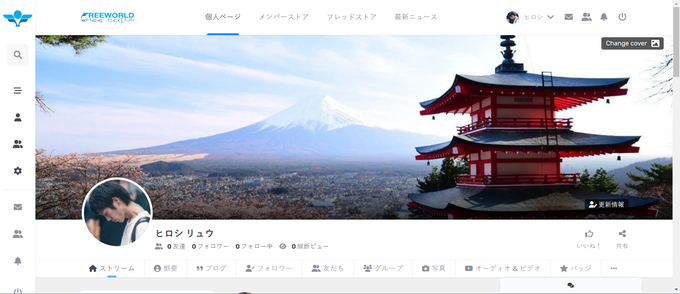 FreeWorld in Japanese
We will also launch a digital currency that will be linked to the site and used across all of the company's products. This is what I'm thinking about at the moment… If all goes well, I will work to make the shares of this company, and make profits that you will not imagine, I just hope that everything will go smoothly, nothing more.. And frankly, I not thinking of putting up any more shares for sale in the near future, except for the shares you'll get in exchange supporting the project in its infancy…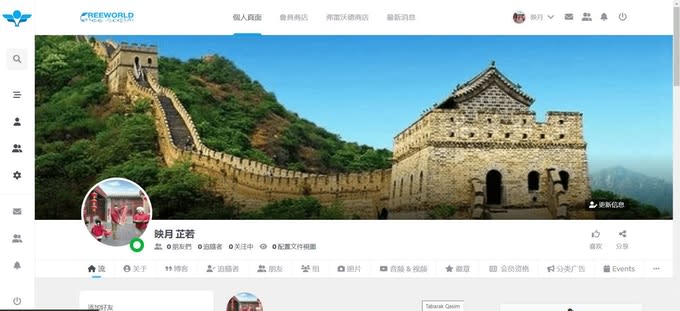 it is also important to note that although the project has not yet started and is still in development and has not yet been officially launched, and its official applications have not yet been released.
However, there are thousands of registered users and dozens of active users
Imagine if he developed and presented all the reasons for success and started a strong campaign to promote the project and we launched an application for this project.
What settings will you register in?
My country has a population of about 40 million people
The population of the Arab and Islamic world is not less than one billion
As a young Arab, I will tell you about the Arab world, but it is definitely a site for the whole world and not just for the Arab world. Frankly, I do not aspire to compete with the giants of global social networking sites.
But it is not bad that FreeWorld is being among the important sites in this world..
That's all I wish for my project.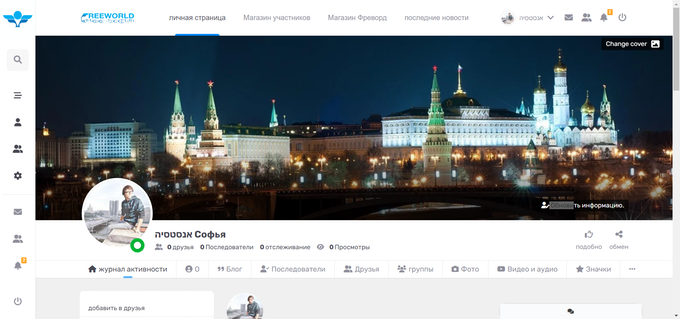 Everyone knows how investing in  Social Media sites has a huge impact in changing the lives of everyone who has contributed to it since its inception.
As long as you come to these words, you deserve to be a part of this project .
Honestly, my friend, opportunity does not come twice.I Wish me and all contributors good luck and great success with this project, hope you can help by sharing it with friends aout..
Thank you for being here .